MB QUART
MB Quart RA1-710.5 Reference Series 5-channel car amplifier — 50 watts RMS x 4 at 4 ohms + 350 watts RMS x 1 at 1 ohm
$249.99
$299.95
In Stock
Sold out
Lease for as low as $/week
Learn More
100% ORIGINAL AND QUALITY
Description
More Info:
Shipping and Refund
MB Quart RA1-710.5
Reference Series 5 channel car amplifier — watts RMS x 4 at 4 ohms + 350 watts RMS x 1 at 1 ohm
Power your music
MB Quart's Reference Series RA1-710.5 five-channel amplifier will send 50 watts RMS to each of your front and rear speakers, and up to 350 watts RMS to a subwoofer, making sure you hear and feel your music over road and engine noise. Designed to power high-quality aftermarket drivers, like their Reference Series speakers and subwoofers, this Class D amplifier utilizes MB Quart's unique Q-Stasis (Class SQ) circuitry to improve the accuracy and clarity of your music while giving it the oomph it needs for solid bass.
Versatile features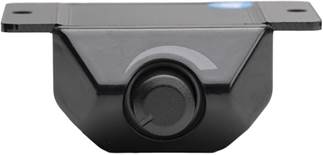 Remote bass knob included
The amplifier's features include speaker-level inputs with signal-sensing amp turn-on, so it's ready to work in almost any system. High-pass filters shape the signal to fit your full-range speakers for their best-sounding output. A low-pass filter, subsonic filter, and a bass boost EQ on the subwoofer channel help dial in just the right amount of bass bump. A remote bass knob is included so you can control your subwoofer's level from the front seat.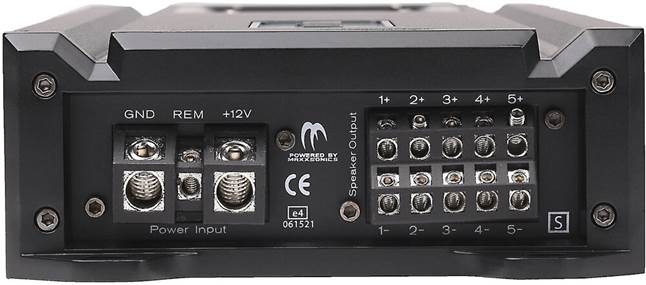 RA1-710.5 power and output connection panel
Product highlights:
5-channel car amplifier

50 watts RMS x 4 + 150 watts RMS x 1 at 4 ohms
100 watts RMS x 4 + 250 watts RMS x 1 at 2 ohms
100 watts RMS x 4 at 2 ohms + 350 watts RMS x 1 at 1 ohm

channels 1-4:

variable high-pass filters (50-250 Hz, 12 dB/octave)

subwoofer channel:

variable low-pass filter (50-250 Hz, 12 dB/octave)
variable bass boost (0-12 dB at 45 Hz)
switchable subsonic filter (Off/25 Hz, 12 dB/octave)
wired remote bass level control included
preamp and speaker-level inputs

speaker wire-to-RCA

 

adapters

 

required for speaker-level input
DC offset-sensing turn-on with speaker-level input

wiring, fuse, and hardware not included with amplifier

4-gauge power and ground leads and an 80A fuse recommended

dimensions: 14-7/16"W x 2-1/4"H x 5-7/8"D
warranty: 1 year
Our 14-day money-back guarantee
MFR # RA1-710.5