Kenwood
Kenwood KAC-M5024BT - Compact 4-channel powersports/marine amplifier with Bluetooth® connectivity — 50 watts RMS x 4
$349.99
$259.99
In Stock
Sold out
Lease for as low as $/week
Learn More
100% ORIGINAL AND QUALITY
Description
More Features:
Shipping and Refund
Kenwood KAC-M5024BT - Compact 4-channel powersports/marine amplifier with Bluetooth® connectivity — 50 watts RMS x 4
Watch our Video Review below ⬇️
Power for your music on land or sea
Kenwood's compact KAC-M5024BT four-channel marine and powersports amplifier delivers a solid 50 watts RMS per channel, over-powering noise from wind, water, or the trail, and adding clarity and impact to your music. The amp features conformal-coated circuit boards and protective covers for its connections, so the music won't stop just because the amp got a little wet or dirty.
Stream music wirelessly — no receiver necessary
The KAC-M5024BT comes with a wired remote control Bluetooth adapter so you can play your tunes through the amp wirelessly from your compatible phone or other devices without needing a factory radio or aftermarket receiver. The remote controls volume and track selection, and comes with a flush-mount bracket. Like the amp, the remote is IP67/IP66 rated against water spray and dirt, so you can mount it in a handy position, even exposed to the elements.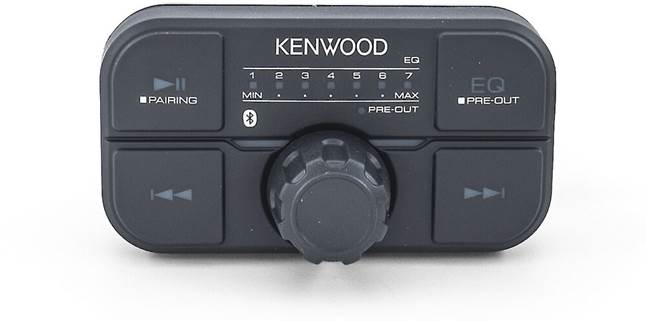 KAC-5024BT Bluetooth remote
Works with almost any system
The KAC-M5024BT will also accept input signals from just about any source, whether it's RCA cables from an aftermarket receiver or the high-level speaker wiring from a factory radio. The high-level inputs can sense the signal and turn the amplifier on, so you won't need to run a separate remote turn-on lead from the receiver or factory fuse box. The amp's high- and low-pass filters let you tune the sound to match your speakers and their locations.

KAC-M5024BT control panel with cover removed
READ LESS
Product highlights:
compact 4-channel powersports/marine amplifier with Bluetooth connectivity

50 watts RMS x 4 at 4 ohms
75 watts RMS x 4 at 2 ohms
150 watts RMS x 2 bridged at 4 ohms

Class D amp technology
Bluetooth input only — connection via wired remote controller

Apt X technology improves Bluetooth sound quality
supports AAC files for iPhone® users
USB port for charging your portable device
IP67/IP66 rated chassis and conformal-coated circuit boards
preamp outputs
wiring and hardware not included with amplifier

8-gauge power and ground leads recommended

fuse rating: 40A x 1
amp dimensions: 9-3/4"W x 2"H x 4-3/16"D
warranty: 1 year
Our 14-day money-back guarantee
MFR # KAC-M5024BT
What's in the box:
Kenwood KAC-M5024BT owner's manual
4-Channel moto-marine amplifier
14" Power/ground/input-output harness (installed) w/ inline 40A ATO fuse
Wired remote control w/ attached 8' cable
Flush-mount bracket for remote
Four 5/8" screws
One 1/8" screw
1-1/4" Double-sided adhesive pad
Installation instructions
Warranty information