Audio Control
AudioControl DM-608 Digital signal processor — 6 inputs, 8 outputs
$699.99
$639.99
In Stock
Sold out
Lease for as low as $/week
Learn More
100% ORIGINAL AND QUALITY
Description
Shipping and Refund
AudioControl

DM-608 Digital signal processor — 6 inputs

, 8 outputs
AudioControl designed their DM-608 digital signal processor to integrate into just about any car stereo system, to correct factory sound processing, and to deliver customized, high-fidelity audio to your aftermarket amps, speakers, and subs. You make adjustments and save settings  via your laptop (PC or Mac).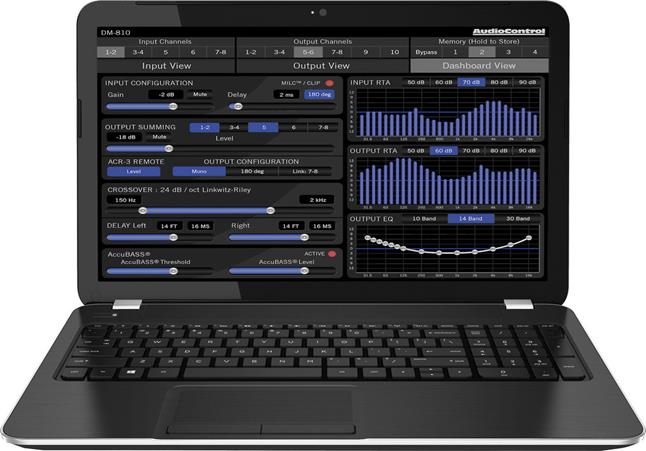 Smart-User DSP tuning software on a laptop (DM-810 version shown)
Serious audio adjustment
The Smart-User DSP software package includes Linkwitz-Riley crossovers, 30-band graphic equalizers, parametric filters, time delay/alignment for inputs and outputs, phase correction, AccuBass™ bass correction, and real-time analyzers (RTA) for the inputs and outputs so you can visually confirm the improvements in the sound.
The matrix is your friend
The DM-608 is "matrix-able," giving you the ability to combine and route any input to any output. So, if your car's factory system has separate pre-filtered, time-aligned, or amplified signals going to factory subs, mids, and tweeters, for instance, the DM-608 can combine them into one smooth, unified signal for you to balance, align, and tune for your better-sounding aftermarket speakers and subs.
Convenient features
Onboard LEDs indicate optimized signal flow for inputs and outputs, plus give you a warning when a source is too loud and causing distortion. An optional ACR-3 wired remote controller lets you select sources, control levels, and recall up to four preset tunings from your front seat. An optional Bluetooth® adapter lets you stream music and control the digital processing wirelessly from your compatible portable device.
Product highlights:
digital signal processor

6 input channels, 8 outputs

all controls and adjustments accessible on your laptop (PC or Mac) via USB connection (AudioControl's Smart-User DSP software included)

USB cable included

control via Android and iOS devices requires an AudioControl AC-BT24 Bluetooth adapter

variable high-pass, low-pass, and bandpass filters (20-20,000 Hz at 12 or 24 dB/octave)

30-band graphic EQ, parametric filters, phase correction

AccuBASS circuitry for improved bass response

time delay/alignment for inputs and outputs

RTA (real-time analyzers) for inputs and outputs
Other Features:
optional wired remote (#161ACR3) controls volume, selects sources, and recalls up to four presets

MILC™ (Maximum Input Level Control) LED optimization and clip indicators

GTO™ signal-sensing turn-on

6 speaker-level inputs (summable)

6 preamp inputs, 8 preamp outputs

coax and optical digital inputs

recommended fuse rating: 3 amps

dimensions: 9-3/8"W x 1-5/8"H x 6-3/16"D